Largest capacity high-speed transmission cable across the Pacific Ocean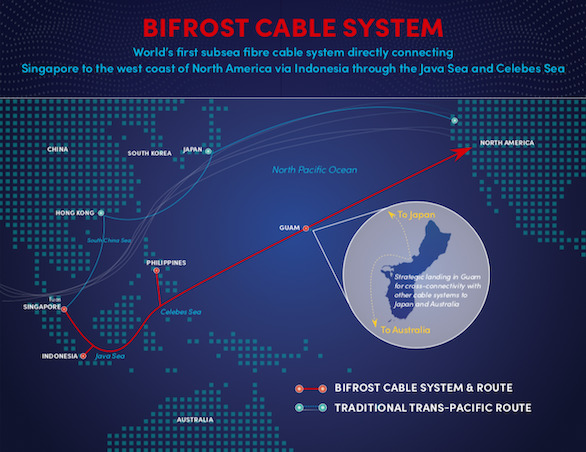 29 March 2021, Singapore – PT. Telekomunikasi Indonesia International (Telin), a subsidiary of PT Telkom Indonesia (Persero), Keppel Telecommunications & Transportation Limited (Keppel T&T), and Facebook Inc. (Facebook) are pleased to announce that they have entered into a joint build agreement to jointly own and develop the Bifrost Cable System, the world's first subsea cable system that directly connects Singapore to the west coast of North America via Indonesia through the Java Sea and Celebes Sea.
Expected to be completed in 2024 and spanning over 15,000 km, the Bifrost Cable System will connect Singapore, Indonesia, the Philippines, Guam and the west coast of North America. When fully commissioned, the multiple fibre paired, high performance Bifrost Cable System will also be the largest capacity high-speed transmission cable across the Pacific Ocean.
Sukardi Silalahi, CEO of Telin said, "The development of the digital economy in Indonesia has by far contributed significantly to national economic growth, shown by the highly use of online services in droves, with online businesses have emerged as new frontiers for the country's digital economy. The collaboration in Bifrost Cable System will cater a massive demand of internet from Indonesia to the world and vice versa, as well as to realise Telin's vision as the Global Digital Ecosystem Enabler."
Thomas Pang, CEO of Keppel T&T, said, "One key component of Keppel's Vision 2030 is our connectivity business. With the development of the Bifrost Cable System, we take a significant step towards strengthening and broadening our connectivity platform by building a new adjacent and complementary business to our data center business. We are happy to collaborate with our consortium partners, Facebook and Telin, for the Bifrost Cable System project."
"Connectivity is at the heart of our mission to give people the power to build community," said Kevin Salvadori, Vice President, Network at Facebook. "We are committed to bringing more people online to a faster internet, to support the growth of digital economies, and to do this in collaboration with local partners."
Alain Biston, President of ASN says "We are proud that Facebook, Keppel and Telin have trusted ASN to build this direct Singapore-North America cable. ASN will mobilise its enhanced production facilities to deliver a highly reliable and high-capacity system, thanks to ASN-developed SDM technology."
With global data bandwidth demands reaching unprecedented levels, surging cloud adoption, exponential growth in mobile device usage and 5G deployment, the surging demand for more bandwidth highlights the critical impact subsea cables have on global connectivity. In addition, there has been an increasing demand for more capacity through the Pacific region due to the significance and the growth of Asian markets. In Asia Pacific alone, according to the Cisco Annual Internet Report (2018 – 2023), the number of internet users is expected to hit 3.1 billion users by 2023, from 2.1 billion users in 2018.
This open cable system will cater to the burgeoning connectivity needs of the Southeast Asia region by providing not only seamless direct connectivity to North America, and low latency, but also network diversity.
The Bifrost cable system will incorporate state-of-the-art optical submarine transmission equipment, benefitting the region's governments and businesses, including cloud operators, telecommunications operators, network providers, over-the-top (OTT) providers, data centers, governments, enterprises, and consumers by offering them competitive pricing and capacity resilience.
About Keppel Telecommunications & Transportation
Keppel Telecommunications & Transportation (Keppel T&T) is a subsidiary of Keppel Corporation Limited, a leading mainboard listed company in Singapore, focusing on four key areas comprising energy & environment, urban development, connectivity and asset management.
Headquartered in Singapore with operations in Asia Pacific and Europe, Keppel T&T offers integrated services and solutions in two core businesses: logistics and data centers. The logistics division offers one-stop, integrated logistics solutions to help clients manage their entire supply chain, while the data center division owns, acquires, develops and manages high-availability data center facilities.
About Facebook
Founded in 2004, Facebook's mission is to give people the power to build community and bring the world closer together. People use Facebook's apps and technologies to connect with friends and family, find communities and grow businesses.
Facebook is a trademark of Facebook, Inc.
About Telin
PT Telekomunikasi Indonesia International (Telin) is a subsidiary of PT Telkom Indonesia, Tbk (Telkom), a state-owned telecommunication and network service provider. Telin focuses on international telecommunication business to manage and develop its business lines abroad. With its vision to become "Global Digital Ecosystem Enabler," Telin global infrastructures includes 207,260 kilometers of cable system length, among others; 58 Points of Presences (PoP), 10 global offices, and more than 19 Tier II to Tier IV Data Centers operates in Singapore, Hong Kong, Timor Leste, and Indonesia. Through Telkom Group strategy together with reliable networks and infrastructures, Telin is able to provide high-quality services that reach all parts of the world in order to Enable Your Global Digital Business and Solution.